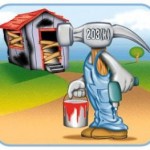 The Federal Housing Administration, FHA, requires homes to be livable upon purchase. Strict inspection requirements are given to FHA approved appraisers to not only come up with a market value but to identify any potential heath or safety hazards.
With as many resales being foreclosed or short sale properties, the potential for damage in these otherwise quality homes is not uncommon. If repairs are apparent in a home before you decide to write your offer, you may want to consult with your lender about the possibility of qualifying for a 203k loan. The obvious answer is to ask the seller to correct these defects; however, many sellers may be unwilling or unable to. So, what's your alternative plan of action?
If a property needs repairs that are somewhat major or the seller is unable or unwilling to work with you, the FHA's 203K home loan program can be your solution. The 203k home loan program allows homeowners to borrow up to $35,000 for non-structural repairs to bring the home up to FHA standards.
Of course there are certain restrictions as to what can and can not be repaired using a 203K home loan. In addition, the work must be often be completed by a licensed contractor. This is why you must consult with your FHA qualified lender about a game plan.
Cheryl Barber | On Q Financial
520-421-0004 | email: Cheryl.Barber@OnQFinancial.com