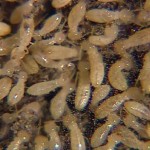 In addition to any home inspection, you may want to have a termite inspection done on your home. Arizona homes are a common food source for termites. Take a look at the Office of Pest Management (OPM) publication, "What You Should Know about Wood-Destroying Insect Inspection Reports".
To obtain a termite history report on a property, visit the OPM website or call 1-800-223-0618.Termite warranties are usually good up to 5 years. You may want to contact the most current company to have treated the property to see if they have a warranty on it as well.
Another way to find out if a property is covered under a current termite warranty may be to call 602-255-3664.
Here's a list of termite inspection/exterminating companies. You may also want to check the Yellow Pages for other companies.
Arizona's Best Choice Pest & Termite Services 520-421-9966
Stormin' Normin Pest Control 520-568-0426
Permaguard (Formerly MD) 480-947-3642
S.O.S Exterminating 520-836-0068
Terminex 520-836-6211