Phase 2: The Pre-Qualification Process
Phase Two: The Pre-Qualification Process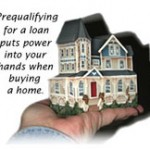 Contrary to the real-life stories of a few bad apples in the industry taking advantage of unsuspecting buyers, working with a mortgage lender or broker recommended by your real estate broker or realtor may end up saving you money and saving your transaction.
In my experience, most agents are reluctant to put their trust into mortgage brokers too. Realtors have seen, heard, and experienced the real-life stories of buyers who have gone through lenders and more specifically, loan officers that were a detriment to the buyer. It takes time to build such a relationship of trust to make any recommendations. Afterall, a buyer agent's recommendation can make or break their reputation and career.
When you work with a mortgage broker who has a strong track record of helping your realtor's clients out, you get:
A thorough pre-qualification trusted by your agent. Communication about your loan strengths, weaknesses, and negotiation strategies available within the loan guidelines will be clear since the lines of communication are always open. Such communication helps the agent help you.
Proactive measures to ensure your offer is the best it can be. Communication with you, your realtor, and your lender upon making an offer will help ensure a clean offer is made on the first go round. Once you're in contract, it's hard to change terms if they're in your benefit alone. Often this conversation consists of foreshadowing possible glitches per the property condition, ownership, or contract terms or time frames.
Help getting past appraisal issues or facilitating other workarounds, as they come up. The lender is going to want to keep impressing your agent in order to keep getting more business.
Assurance of working with a mortgage pro who has been vetted and vouched for over and over. Your buyer's agent hasn't had just one proven success but many results of their ability to navigate common obstacles, keep their buyer's best interest at heart, and get transactions closed in a timely manner within all terms of the contract. It doesn't hurt to shop your realtor's recommended lender. The end decision is still yours.
First Time Home Buyer Secrets To A Successful Purchase