Here's a core guide to each phase of the home buying process.
Phase Four: Negotiation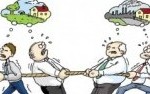 Here's where your family, friends, and the media can cause you to lose the house you want. Although some of the advice may be great, it is generalized information. It may not apply to every home on the market in every city or more importantly, it may not have anything to do with the particular home you choose.
You should expect to hear criticism from your family, friends, and co-workers. They too want to help you get the best deal. However, they won't have all the information your realtor will be giving you to help you know what you're dealing with on that specific offer. Remember, the final decision is yours but your agent also has the decision to keep working with you if you're not being realistic.
Once you find the home you want to make an offer on, the focus should now be directed toward that particular house and your particular financial situation. Who's the seller and is there any way of knowing exactly what the seller is thinking? You certainly may have an idea but many sellers, including banks, builders, and homeowners have all been known to do the unexpected when there's an offer in writing. The written offer is where the serious negotiations begin.
Be confident that you chose to work with a buyer's agent you trust to develop a smart strategy.  Then keep working with them to manage and maintain realistic expectations as you proceed negotiating the contract. Your Realtor will give you insights on the current comparable homes that sold and negotiation strategies permitted by your loan. Your Realtor may even be successful in getting information on other possible offers that were submitted and failed or current offers you'll be competing with.
There are many factors that come into play in this phase. Let your Realtor gather some of this information to report to you so you can weigh your options. Predetermine what you want to offer and what the home is really worth to you. You'll be surprised that those two figures could be far apart. Should you get into a bidding war, you will already have your plan in order to help you negotiate within your comfort zone and not get caught in the moment causing you to lose the home or over bid.
First Time Home Buyer Secrets To A Successful Purchase