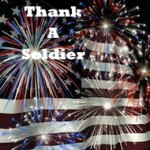 WOW, the city of Casa Grande will not disappoint. Can you believe this small town puts on such festivities?
If you're in town Monday, July 4th, you'll want to check out the Paul Mason Sportsplex at 2525 N. Pinal Ave.
For you competitors out there check out the watermelon eating contest, sack races, relay races, and volleyball. Have fun in the bouncers, on the water slide, or getting your face painted.
There's fun for the whole family. Happy Independence Day!
Don't forget this is a gracious day to celebrate those who fought to gain our independence long ago. Thank our military men and women for continuing to fight for us today. They risk life and limb for us and deserve our gratitude. Today is not the only day to thank our troops. When I see a soldier, I pledge to go out of my way to thank them for their service. How about you?
Search Homes For Sale In Casa Grande, AZ.