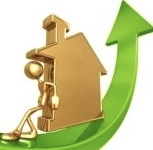 So, I was laughed at and criticized for even thinking the possibility that the Casa Grande, Arizona housing market will switch from a buyer's market to a seller's market so soon. There's a "Flood" or "Wave" of inventory the banks are going to release all at once I was told. The truth is, nobody has a crystal ball. There are many factors that change a housing market and right now supply and demand is in effect. There aren't many available homes in this area right now. Ask the buyers that are trying to buy one.
With a steady flow of low inventory and a higher demand, there won't be many homes saturating the market in the near future either. In my opinion, it would be a gamble to wait to find a better deal in Arizona.
In 2005 mortgages were given away and AZ was making national headlines for it's growth and home appreciation. Builders couldn't keep up with the demand. Arizona is a desired area to buy investment properties, retirement homes, and homes to raise your family in. The small town of Casa Grande, Arizona made national headlines for niche markets including winter visitors and retirement communities.
The National Association of Realtors is predicting Arizona Home Prices Will Rise in the Next 6 Months.
Although there are no predictions of big numbers like 2005, with our low inventory, we are already seeing multiple offers and homes purchased for above appraised value.  Our supply has been lower than our demand for the last 3 months which means the media should soon start publicizing that we are back in a seller's market. It appears to be a safe prediction that our prices will start increasing again.
Once the news hits the media people tend to panic and bid higher when in competition with other buyers. I've already seen buyers paying over appraised value for homes in the last 2 months. Since these homes are now closing, they will give the appraisers comparable home sales to support higher prices.
If builders could afford to build in competition with today's resale prices, would we have the same issues as we did in 2005? Will builders be able to keep up with the demand? I'm sure it would all be on a smaller scale but this is why I agree with NAR's prediction that we will see an increase in Arizona home prices in the next 6 months. I wonder what the headlines will be this time???