Well, it happened Tuesday, January 17, 2012. The City Council of Casa Grande approved the PAD for Phoenix Mart by a unanimous 7 to 0 vote. Ground breaking is planned to take place by the end of 2012 with an estimated opening day in February of 2014.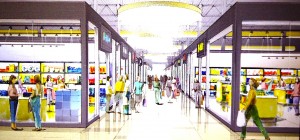 Friday, January 20, 2012,  I attended a breakfast in which many of my questions about the Phoenix Mart project were clarified.  Mayor, Bob Jackson spoke briefly about the project before handing the mic over to the Vice President of the developer of Phoenix Mart, Jeremy Shoenfelder. Jeremy spoke extensively about the details of the project and most importantly, he answered questions to help clarify some of the misunderstandings.
Jeremy helped put the project in perspective by comparing it to a farmer's market. The vendors of Phoenix Mart are going to fit into 1 of 6 production areas; Women's, Men's, Youth, Auto, Home & Hotel, and Food. Vendors are expected to be 1/3 from China, 1/3 from the United States, and 1/3 to consist of other international manufacturers.
3000 direct jobs MUST be created and 8000 direct/indirect jobs are expected to be created in addition. I asked what "direct jobs" meant since many seem to think it means jobs in Casa Grande only. Jeremy responded that the "3000 direct jobs" had been defined as jobs located anywhere in Maricopa and Pinal Counties. 3000 is the minimum required.
Why Casa Grande?
The most obvious answer is location, location, location. Casa Grande is located between two major cities, Phoenix and Tucson. It's ideal for transporting goods due to the weather, access to the I-10, the I-8, the Union Pacific Railroad, and it's only 45 minutes from Phoenix Sky Harbor Airport. Since the EB-5 program requires to build in a rural area to help encourage growth and employment, with a population of under 50,000, Casa Grande was a perfect fit.
This really is a great opportunity for local business to benefit from Phoenix Mart as well. Phoenix Mart has implemented an "Incubator" component that provides services to small and midsized businesses that otherwise wouldn't be available to them. Phoenix Mart intends to help these businesses be successful so that Phoenix Mart is successful.
I think it's a brilliant master plan to help not only the local area of Casa Grande or even the whole state of Arizona, but the entire U.S. economy. If you Click here to view the PAD Amendment and Preliminary Development Plan you'll see the magnitude of this project.  What do you think?
Follow along as this project progresses.
Article 1 – Phoenix Mart in Casa Grande, AZ – What Is It?
Article 2- Project Discussion In It's Infancy
Article 3- Project Planning & Zoning
Phoenix Mart Rumors and Updates - January 2012, May 2012, October 2012, April 2013